Water Heater Rebate Programs
$650 for the purchase and installation of a new natural gas tankless or super high-efficiency water heater with a uniform energy factor (UEF)
of 0.81 or higher or a thermal efficiency (TE) of 82 percent or higher.
 $750 for the purchase and installation of a new solar water heater with natural gas backup.
Review program eligibility and requirements.
Purchase a new qualifying natural gas water heater.
Installer completes qualifying natural gas water heater installation. Installer must comply with manufacturer's instructions as well as all
applicable safety and code requirements.
Submit the completed signed application, natural gas water heater purchase receipt and installation invoice within 180 days of installation.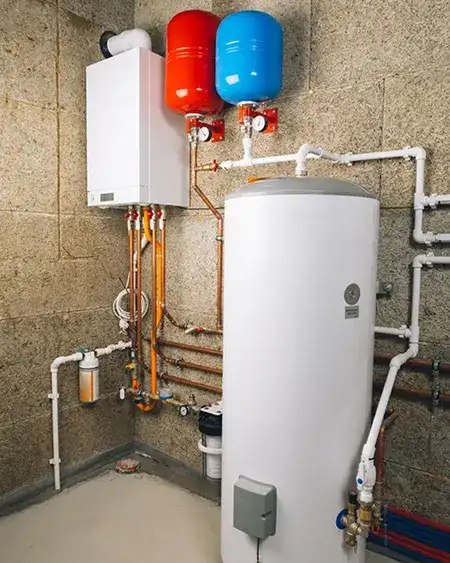 APPLY ONLINE (FASTER PROCESSING)
If you have questions, please email EnergyEfficiency@TexasGasService.com or call 512-370-8256
Incomplete applications may not be honored.
 The rebate is for the purchase and installation of a new qualifying natural gas water heater in a new or existing residential home.
Work must be completed by a licensed contractor.
 All required city permits must be obtained or the installation will not be eligible for a rebate.
The customer is responsible for the full cost and installation of the new qualifying natural gas water heater.
For Solar Water Heater with Natural Gas Backup:
» Solar collectors must be installed to support a new or existing natural gas appliance such as a boiler, storage, tankless or pool heating
system. Solar appliances that do not work in conjunction with a natural gas appliance do not qualify.
» Only active systems with panels (or collectors) that are certified OG-100 by the Solar Rating Certification Corporation (SRCC) qualify for
this rebate.
The rebate is available to qualified residential Texas Gas Service customers within the city limits of Austin, Bee Cave, Cedar Park, Cuero, Dripping Springs, Gonzales, Kyle, Lakeway, Lockhart, Luling, Nixon, Rollingwood, Shiner, Sunset Valley, West Lake Hills and Yoakum with a base gas service rate code of ABIA I/S, AUST I/S, BEEC I/S, CDPK, CUER I/S, DRIP I/S, GONZ I/S, KYLE I/S, LAKE I/S, LOCK I/S, LULI I/S,
NIXO I/S, ROLL I/S, SHIN I/S, SUNV I/S, WLHS I/S and YOAK I/S.
To check your rebate eligibility, check the top part of your bill for your RATE CODE. If you still have questions, please contact Texas GasService at 512-370-8256 before proceeding  with your purchase or installation.
To be eligible for a rebate, the customer must have an active Texas Gas Service account.
Important Information: Rebates are limited and issued on a first-come, first-served basis until program funds are depleted. Texas Gas Service encourages each
customer to review all program eligibility requirements. Rebate checks will be mailed approximately six to eight weeks after approval, subject to
availability of program funds