fast, reliable emergency plumbing services in Georgetown, TX
SERVICE BEYOND EXPECTATION, Results that last a lifetime
CONTACT US FOR PLUMBING SERVICES
Plumber NEAR ME IN Georgetown, TX
When you're searching for a plumber in Round Rock Tx, and you live anywhere in the heart of Texas, you should contact JustUs Plumbing before calling anyone else. Then you'll know you're working with skilled, reliable professionals.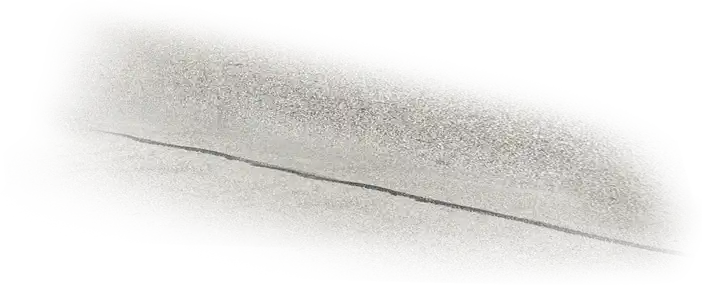 Our professionalism far exceeds most Austin plumbing companies and we can prove it. We also offer an amazing warranty in Georgetown, TX that most plumbers can't!
Whether you need minor repairs or maintenance, or a new installation, your Georgetown, TX plumber can handle the job expertly and efficiently
Water Conditioning
Services
Georgetown, TX plumbing companies like JustUs Plumbing can provide you with a clear, uncontaminated water supply, free of chemicals.
Residential Plumbing
Services
Our local plumbers are on standby, ready to provide any kind of routine or emergency plumbing services you need.

Over 200+ Amazing Reviews
Eric was able to repair the garbage disposal when we thought we were going to have to replace it. Thanks for your investigative skills Eric!
Jarrod replaced our leaking water heater and shower faucet. He was prompt, informative, and fair. JustUs will be our go-to plumbing service from now on! Thanks, Jarrod!
Their service response is very good as is their work. I was quite pleased and will be using JustUs in the future for all my plumbing.
Called them out to repair a leak that flooded our house. Ended up replacing the whole toilet. They were very friendly and responsive. Would highly recommend them and I would definitely use them again if I ever need a plumber.
I could not ask for more. The service was excellent with very friendly and professional staff. I will definitely recommend them to family and friends.
Jarrod was great and finished in a timely manner. The company is veteran-owned and loves taking care of veterans. I will definitely call them for my next job/emergency
Dwayne responded to my request within minutes. Jared came out on time to my rental property and was very patient and thorough. Great guys!
Spoke to Wayne and Jarrod as well as the office staff. They were helpful and very personable and came out within a moments time. It was towards the end of the day and they bailed me out. I had a leaky shower faucet. Great guys!
I had a drainage issue and they came out as promised and gave me a veterans discount. A week later, I still had a drainage issue and they came out as soon as I called and corrected it. These guys ROCK! I will continue to call upon them as needed and I would highly recommend them to anyone!
They came and did a very good job. Answered all my questions. Very professional I would definitely hire them again for future projects or if I need repairs.
JustUs plumbing has become my go-to plumbing service. They deliver quality results in a timely fashion. They bring a positive attitude.
Just Us Plumbing was quick and did an excellent job. Jarrod was knowledgable and experienced and so so helpful. I will for sure be using them for all our future plumbing needs!
Would highly recommend "JustUs Plumbing." Dwayne will give you many options within a range of prices, which I appreciated. And different brands as well. I really like the texts I received alerting me to and updating arrival time.
These guys are excellent! They were quick to respond, found my problem, and got me going in a very short period of time. They are nice, friendly, and look after you. I highly recommend them.
Whether you want the installation, repair, or replacement of a water heater, we have got you covered. We deal in gas heaters, electric heaters, tank heaters as well as 
water heater repair in Georgetown, TX
.
Here at JustUs Plumbing, we offer a comprehensive range of hot water tank repair services. We also offer emergency electric water heater repair in Georgetown, TX
 service. This is because we understand how annoying it is when you find out just in time that you don't have hot water available. To meet such a scenario, our plumbers are on standby and ready to resolve such problems on an urgent basis. Simply reach out to us anytime to hire our water heater services.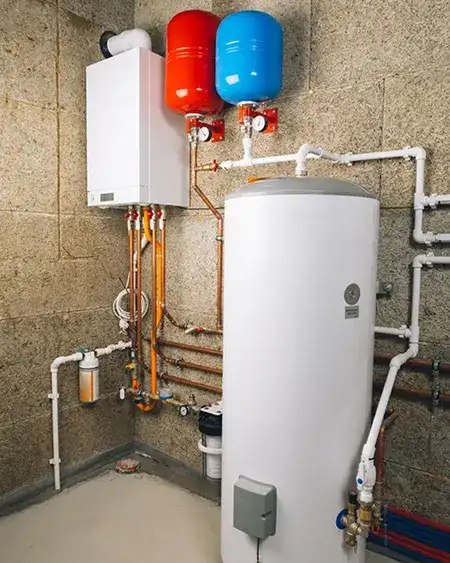 WHY HIRE PROFESSIONAL WATER HEATER SERVICES?
WHAT ARE AVERAGE HOT WATER TANK REPAIR COSTS?
The actual water heater repair cost in Georgetown, TX depends on many factors. For instance, if you are considering the installation of a new heater, the actual costs will depend on the type of heater you currently have, and any plumbing code upgrades that may be needed. There are various options to add to a heater as well. Flood stops or Leak Breakers are very good for water heaters that are in the attic's, and alarms are also good to have in order to notify you of a leak or problem before it becomes a disaster. 
A gas water heater service typically costs more but its long-term energy costs are less. In contrast, water heater service costs for water heater repair in Georgetown, TX are lower but have higher long-term costs. Repairs for both types usually cost the same.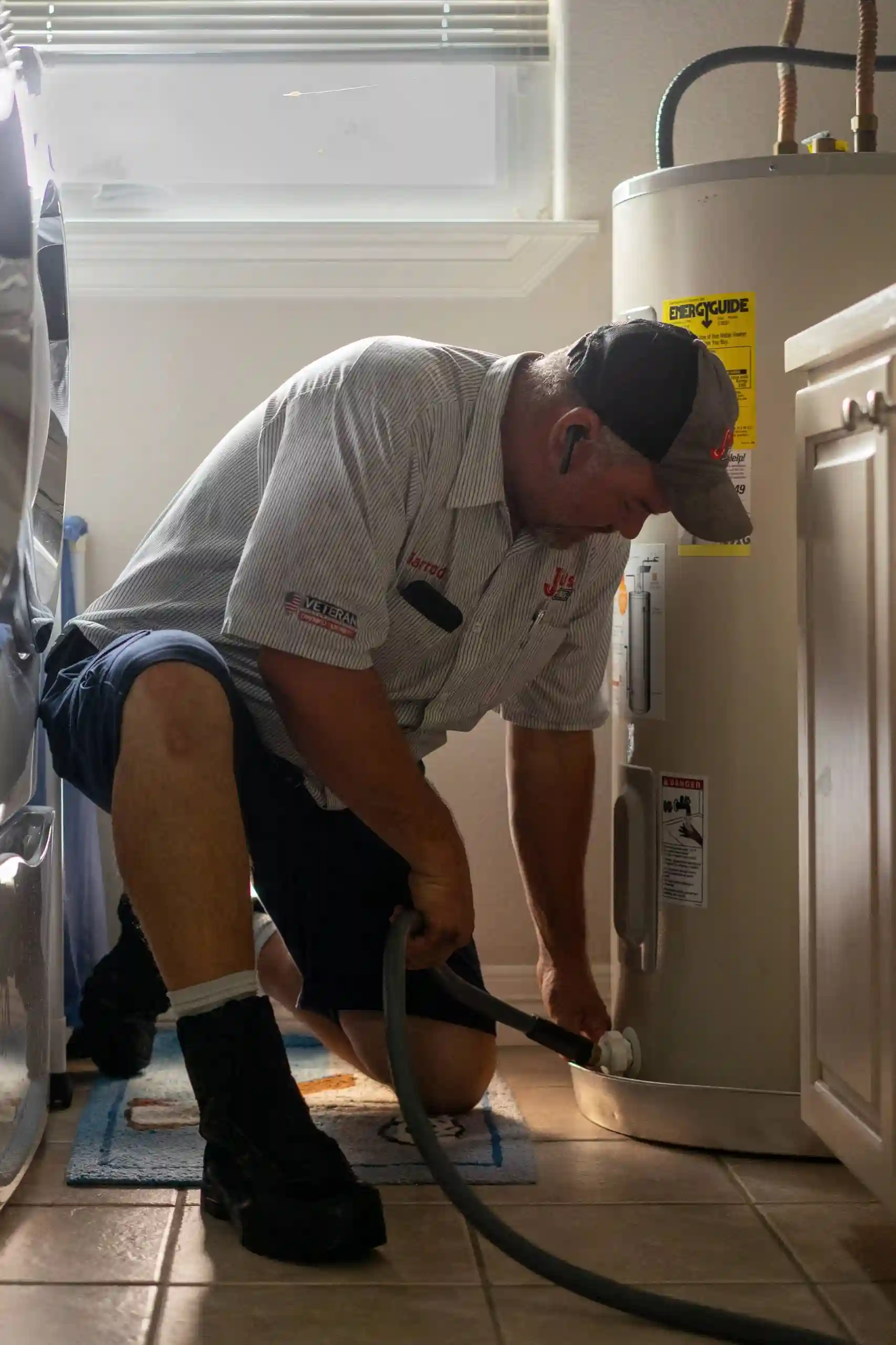 SCHEDULE SERVICE in Georgetown, TX
WHEN TO LOOK FOR WATER HEATER REPAIR in Georgetown, TX
When looking for a water heater repairman in Georgetown, TX, work with a professional like JustUs Plumbing who has the right knowledge and experience with your particular heater model.
A water heater is an important tool in a home for doing the dishes, washing clothes, and keeping your baths and showers hot and comfortable. A water heater has a lifespan of about 8 to 12 years, based on the manufacturer's recommended service life. This may vary depending on the quality of the appliance, quality of installation, water quality, and how often you perform your electric water heater repair in Georgetown, TX service.
Read More
As it gets close to its life expectancy, no matter how good your heater is, it might start getting cranky. The warm water won't last as long or the morning shower won't be as warm. When this happens, it's good to look for a water heater repair in Georgetown, TX service provider to check for possible issues and fix them.
WHY CHOOSE JUSTUS PLUMBING FOR YOUR WATER HEATER REPAIR SERVICES?
At JustUs Plumbing, we take every job seriously and will respond quickly to your call. Our technicians know exactly what to look for to know if your water heater requires simple repair like a thermostat modification or replacement, or if it's something more serious such as failed burners or calrods. Today's water heaters are either gas or electric water heaters and they tend to be a bit more complicated compared to older units. Our water heater repair near me services providers are trained to adjust, check venting, and assess your pressure and the thermostats, and to ensure things are in good working condition when they are done.
Remember, because of power/fuel supply and weight, changing out your water heater should be done by professional water heater repair services contractors.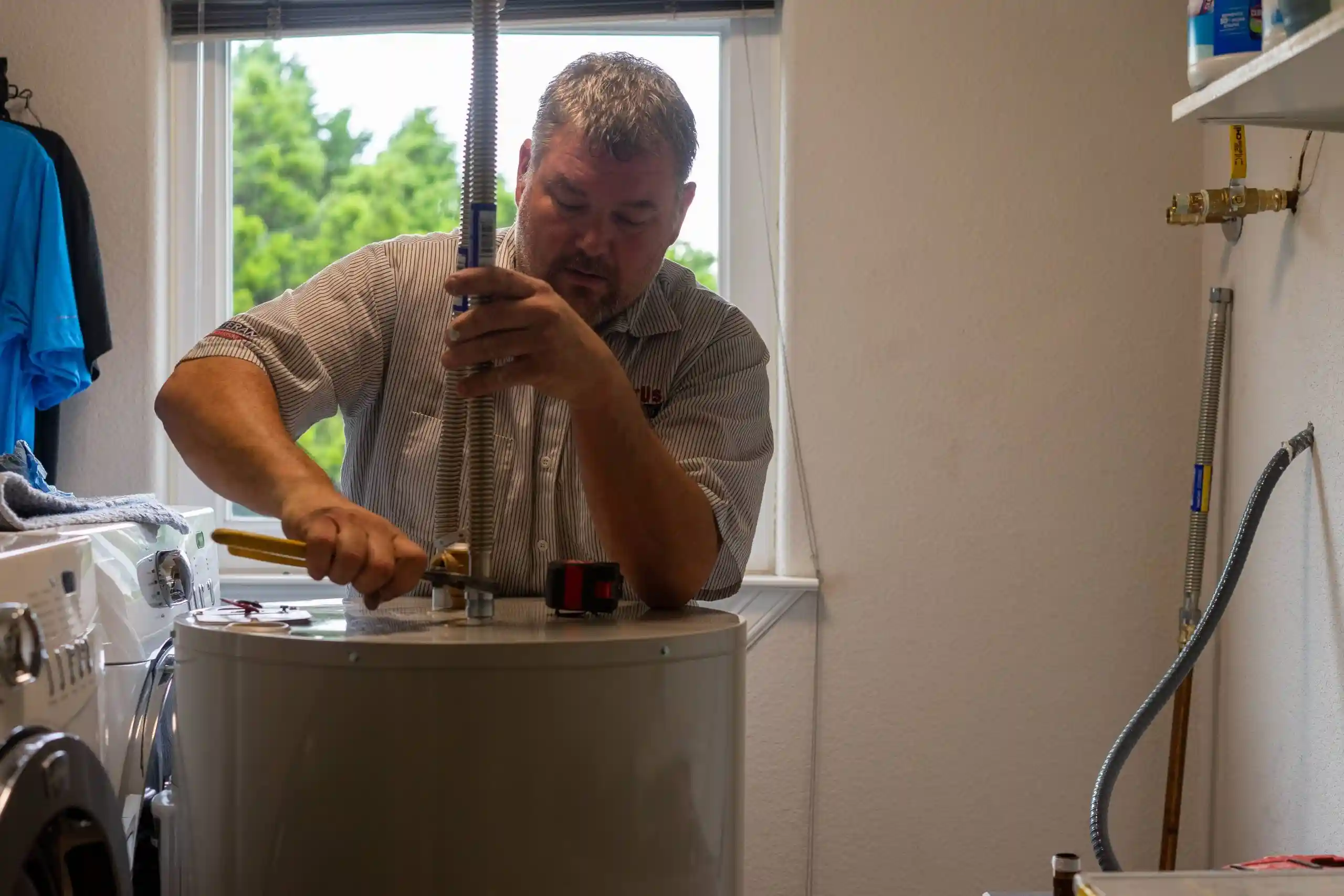 WATER HEATER REPAIR INSTALLATIOn
WE OFFER PROFESSIONAL WATER HEATER INSTALLATION SERVICES IN TEXAS
With more than 28 years of combined experience in the plumbing, heating and cooling industry, JustUs Plumbing has the right training and experience to handle all your water heater repair in Georgetown, TX needs.
There is nothing as disappointing as the realization that you will no longer enjoy those long, hot showers anymore. If your water heater has a leak or if it has simply stopped working, then it's time to consider a new hot WATER HEATER REPAIR in Georgetown, TX
. Regular water heater service will help you know whether the issue can be fixed or you need a new appliance.
Read More
Now, you can either go for gas water heater installation in Georgetown, TX or tankless water heater repair. Ensure you go for the most powerful water heater that is also large enough to handle all your family needs. Though this depends on your local utility charges, gas water heaters are generally cheaper to run than electric heaters. They, however, cost more upfront compared to electric water heaters. However, subject to energy savings, gas water heaters typically make up the disparity in price in about a year. So, it is important to consider all these factors when planning your
water heater installation in Georgetown, TX
.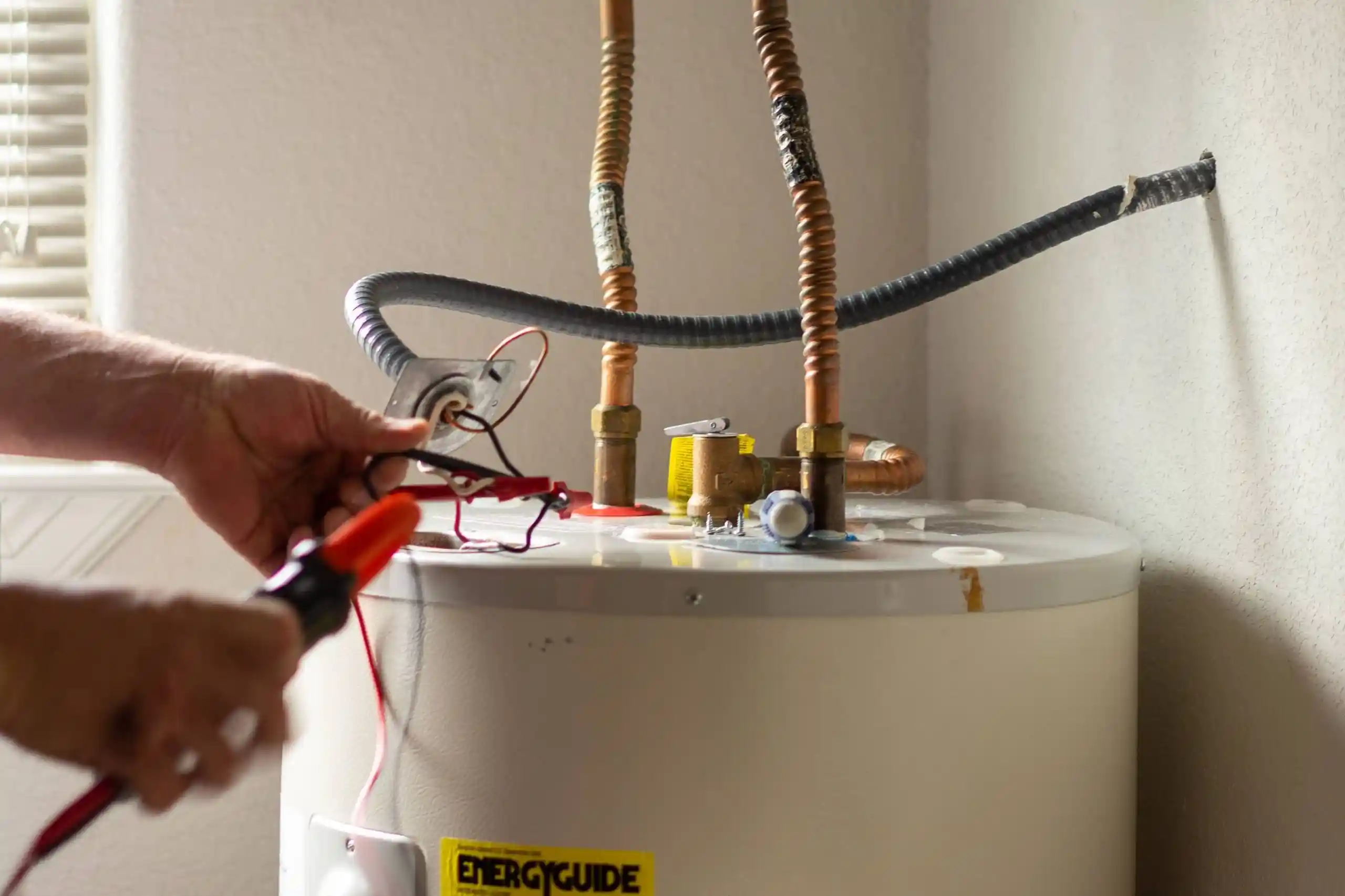 WATER HEATER INSTALLATION COST
Tankless water heater repair installation cost depends on various factors including your present plumbing configuration and the kind of water heater you want.
Gas water heater installation cost tends to be higher compared to electric water heater in Georgetown, TX
 installation cost. This is because to install a gas heater, you'll need to either fill into a gas line that is in current use or bring a new gas line to the location ($500). Second, ventilation is necessary when installing a gas heater as you'll have to remove the combustion vapor from the property and into the outside air.
On average, the water heater repair cost in Georgetown, TX for a gas heater is $400-$500, though the price is bound to go up as $1,500–$2,300 if you are installing a gas water heater in your home for the first time.
THE IMPORTANCE OF WATER HEATER MAINTENANCE SCHEDULES
Just Us Plumbing is your solution to professional water heater maintenance in Georgetown, Cedar Park, Leander, Anderson Mill, Pflugerville, Hutto, Round Rock, Jarell, Lago Vista, Jonestown, and Austin, TX area.
Your water heater is often a neglected appliance in your home. You make regular check-up appointments at the doctor, and you should do the same with your local plumber to get maintenance check-ups for your water heater. Hot water repair in Georgetown, TX
 and maintenance service can come with many benefits.
These are the some of benefits of a regular water heater service.
SCHEDULE water heater repair in Georgetown, TX
CHOOSING THE BEST WATER HEATER REPLACEMENT
Finding a plumber you can trust takes time. When your water heater needs replaced, sometimes you don't have time to pick and choose a plumber. JustUs Plumbing is a trusted name in the heart of Texas for fair hot water heater repair costs. Hot water repair in Georgetown, TX
 can average over $1,600, and it can be a surprise to those who were not expecting these replacement costs. JustUs Plumbing understands that 
hot water repair in Georgetown, TX
 emergencies can happen any time, day or night.
WATER SOFTENERS INSTALLATION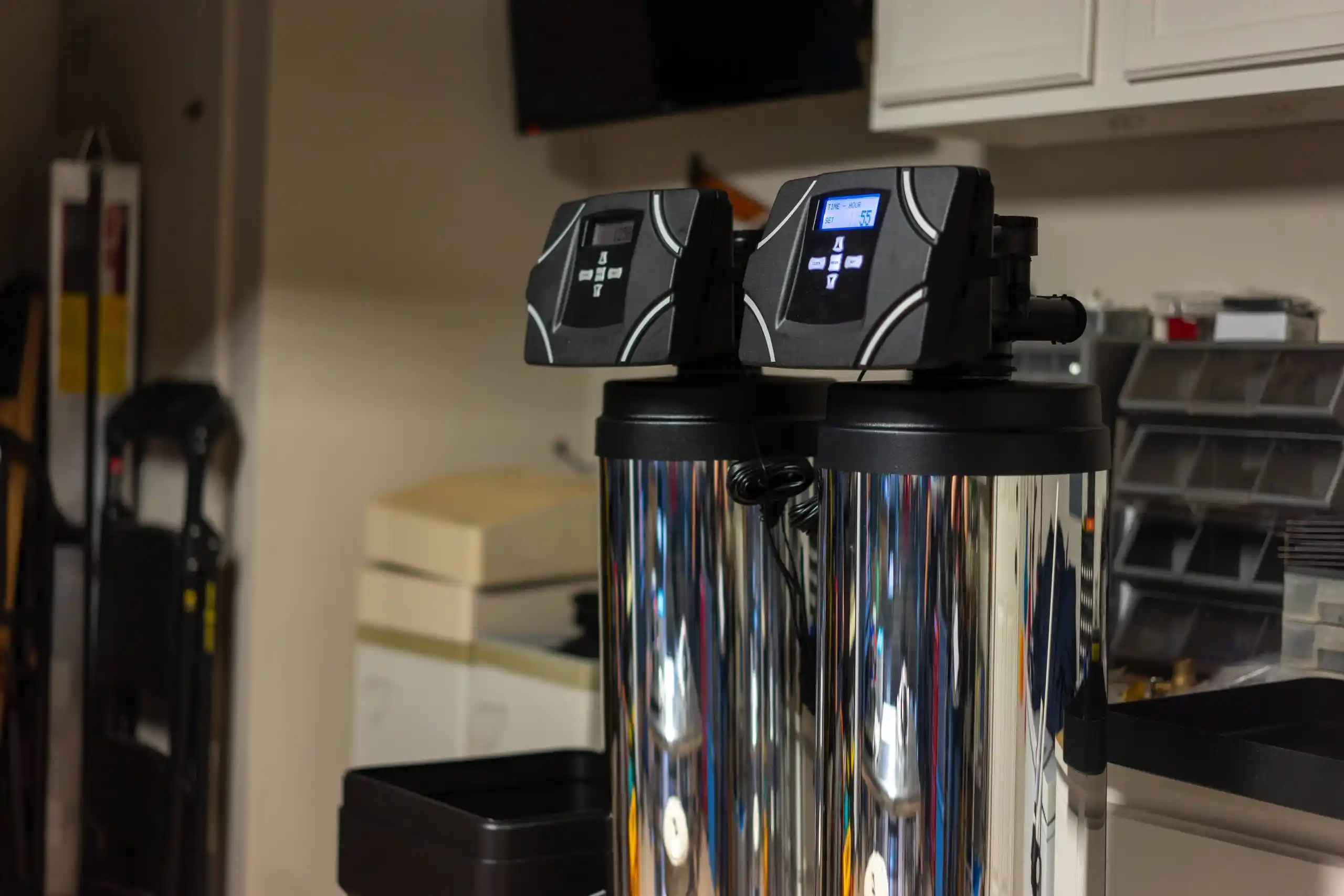 WHY YOU SHOULD CONSIDER WATER SOFTENERS INSTALLATION
Water can contain chemicals, sediments, and all kinds of impurities that end up affecting its smell and taste. Contaminants come in various forms and can cause a variety of problems in our heating systems, leading homeowners to seek out professional water softener repair in Georgetown, TX services.
Read More
The solution lies in having a water filter system. water softeners installation systems will give you clean, healthy, and tasty drinking water that you will find yourself drinking more. If you are looking for dependable water softeners installation in Georgetown, TX
, consider JustUs Plumbing.
WE OFFER THE BEST water softeners installation SYSTEMS IN Georgetown, TX
With more than 28 years' experience and actual focus on client satisfaction, JustUs Plumbing are proud to offer the best water softeners installation services to the residents of Georgetown, Cedar Park, Leander, Anderson Mill, Pflugerville, Hutto, Round Rock, Jarell, Lago Vista, Jonestown, and Austin, TX. You can count on us for all your filter changes, system repair, and much more.
WATER SOFTENER MAINTENANCE
HIRE OUR SPECIALISTS TO PERFORM WATER SOFTENER REPAIR
JustUs Plumbing has over 30 years of experience in providing the best water softeners in Georgetown, TX and plumbing services such as water softener repair, drains fittings, valves, valve assemblies, and offers its skilled services to homeowners.
HELPFUL TIPS FOR BASIC WATER SOFTENER repair
Water softener repair service specialists advise homeowners in Georgetown, TX to constantly care for their equipment. While the major repair work should be performed by certified plumbers, there are things that every owner can do to keep the water conditioner in Georgetown, TX in good condition.
Some of these tips include:
Choose high-purity salts for the brine tank
Use water softener cleaner recommended by the manufacturer to clean the resin bed
Clean the venturi valve periodically – this valve creates the suction between the brine and resin tank and is likely to get clogged with sediment
Check the salt level on a monthly basis
Add a pre-filter to stop sediments from entering the water softener
Please note that even if you follow all these steps, you still need to hire a water softening system in Georgetown, TX repair service to check the installation at least once per year.
SCHEDULE SERVICE in Georgetown, TX
CHOOSE THE BEST WATER SOFTENER REPAIRMAN
JustUs Plumbing not only offers variouwater softeners installation in Georgetown, TX services but also specializes in the repair and installation of different water softeners installation systems. You can count on us for all your water softening system.
Most people don't give much thought to their water softeners installation systems. Other than the occasional sack of salt, there isn't much to worry about. In most cases, you'll be able to whole house water softening minor problems without relying on a professional water softener repairman in Georgetown, TX, for instance removing salt bridges that may have formed or reset the time.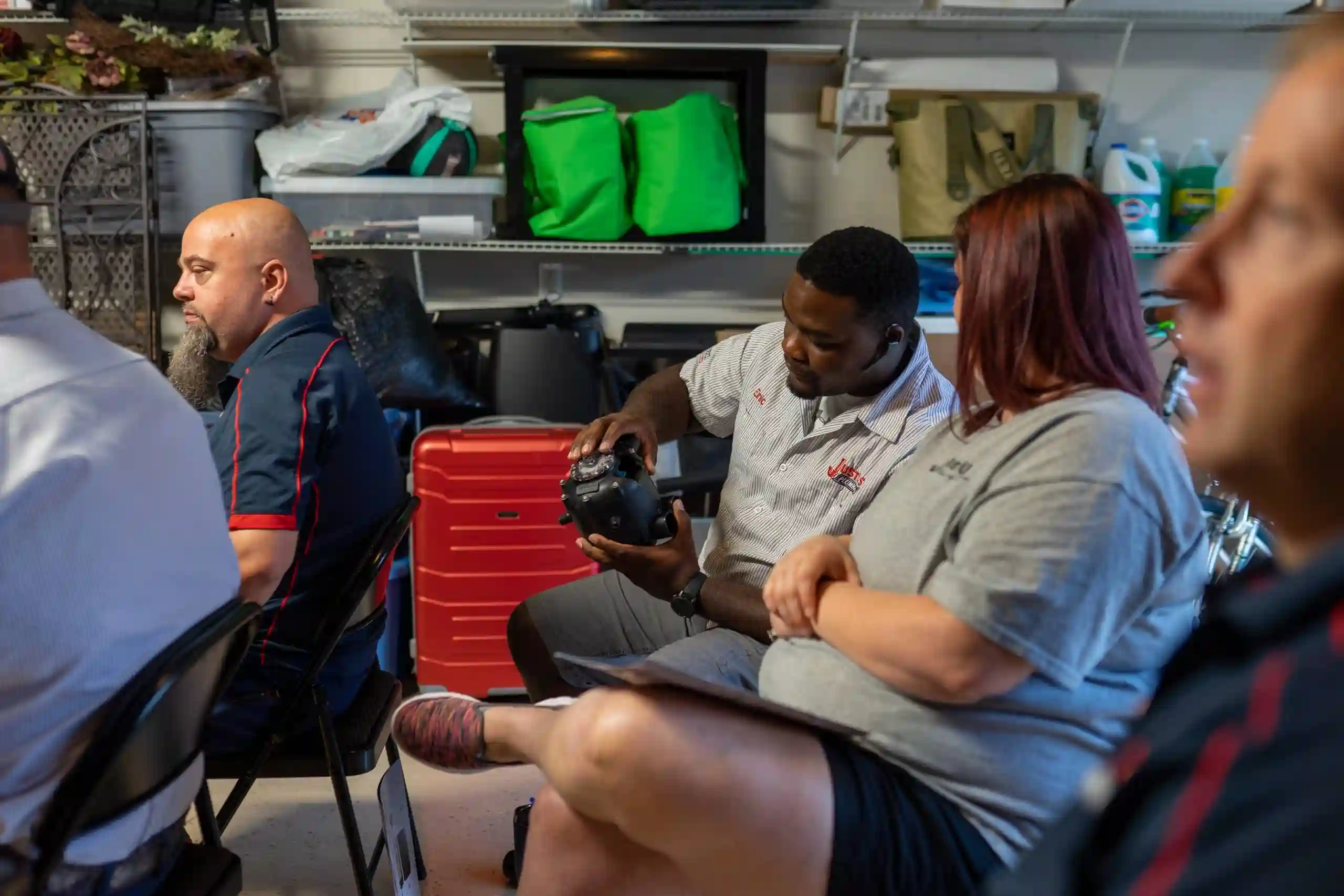 WE OFFER PROFESSIONAL WATER SOFTENER REPAIRMAN SERVICES
A water softening system is an important device in your home, but it also needs repair to allow you and your family to continue enjoying high-quality water. Therefore, if you notice any issues with the quality of water produced or the gadget itself, it is good to call in a professional water conditioner in Georgetown, TX.
JustUs Plumbing has been offering efficient, transparent, and professional water conditioner in Georgetown, TX service to area residents for many years now and we are ready to take on your repair and ensure that you and your family continue to receive the highest quality water that you are used to.
WHY PUMP SERVICE IS IMPORTANT
With over 28 years of combined experience in the plumbing industry, JustUs Plumbing has the right experts to carry out pump service and repair in Georgetown, TX and surrounding areas.
Pumps are the second most popular machines in the world. Because of their popularity, these machines are often bypassed as possible sources of improved efficiency or a cause of higher costs if not well-operated. A household pump is utilized where gravity sewer lines of the house cannot be used. These pumps are traditionally placed in an underground tank and they help pump wastewater produced in the home up into the sewer line. The same way you perform water heater repair to your heating system, pump water service in Georgetown, TX is inevitable if you want your pump system to perfectly handle common wastewater from your laundry, kitchen, or bathroom.
Other than occasional 
pump water service in Georgetown, TX
, it's good to note that some materials and chemicals can also cause safety hazards and operating problems. So, as you perform your pump water service, also check labels on chemicals and materials before you dispose of them.
WE OFFER PROFESSIONAL PUMP SERVICES IN Georgetown, TX
With knowledgeable outside field service mechanics, detailed pump repair shop technicians, and caring customer service personnel, our customers can expect nothing but professional pump pressure service in Georgetown, TX and repair backed by exacting standards, superb performance, and rock-solid reliability.
From grinder pump maintenance to sump pump installation; our professional pump service and repair experts in Georgetown, TX bring a level of experience and expertise that ensure excellent results on your project.
GRINDER PUMP REPAIR AND INSTALLATION
GRINDER PUMP REPAIR & INSTALLATION
WE'LL DO THE DIRTY GRINDER PUMP REPAIR AND INSTALLATION WORK!
Grease, feminine products, or seafood shells can damage your grinder pump, preventing it from grinding waste and pumping it to your municipal sewer system or your septic tank. If you need a new grinder pump in Georgetown, TX, call JustUs Plumbing Services for sewer grinder pump installation near me in Georgetown, TX.
We're your grinder pump repair plumbing company in Georgetown, TX. Turn to us for
Honest advice about your grinder pump's condition
Top-notch installation for a low flat fee
All-hours emergency plumbing services
Contact us today to schedule your sewer grinder pump installation in Georgetown, TX. We also install Liberty and Barnes sump and wastewater pumps and repair lift station pumps.
PROFESSIONAL GRINDER PUMP REPAIR SERVICES IN TEXAS
JustUs Plumbing offers over 30 years of experience handling plumbing needs. For pump service and repair in Georgetown, TX, area, look no further than JustUs grinder pump repair.
Your grinder pump consists of several working parts. Think of it as a garbage disposal for wastewater. Once a specific level has been reached inside of the pump, small teeth shred up the waste and then propel it through a pipe to the septic or sewer.
When your grinder pump fails, you need a grinder 
pump pressure service in Georgetown, TX
 and repair that can distinguish if you need repair or replacement. Our professional pump pressure service tech can identify the problem of your grinding pump or sewer problem and offer you solutions at reasonable grinder pump system costs in Georgetown, TX.